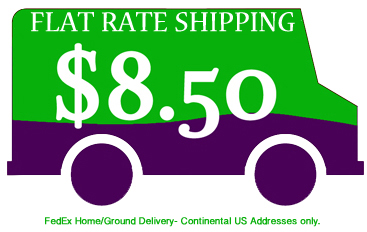 Here are some answers to frequently asked questions about our shipping and return policies:
Q: When will my order ship?
A: Most in-stock orders ship within 48 business hours from our Western Pennsylvania warehouse, with certain other items shipping direct from our manufacturers. These include personalized/embroidered/printed items, Baptismal Wear items (shipped from Utah), the Kate Aspen Favor Collection (shipped from Georgia) and certain other items.


Q: Do you offer expedited shipping options?
A: Yes. In stock merchandise can be expedited via FedEx Express for overnight, FedEx 2Day or FedEx Express Saver, with rates based on your delivery address. Expedited shipments must be placed before 1:00pm EST to ship the same day. Orders placed after 1:00p will ship on the next business day.

Q: Will a receipt be included with my order?

A:
An itemized receipt will be emailed to you after checkout. A packing slip without prices will be shipped with your order. This will include any gift message you indicate for the recipient.
Q: Do you offer Saturday delivery options?
A: Yes. FedEx Home Delivery operates on Saturdays in almost all areas for no extra fee, however Home Delivery day/time estimates are not guaranteed. To guarantee Saturday delivery for Ground, Home Delivery or Express shipments, FedEx assesses an additional $35 charge that you would be responsible for paying. You will need to specify this option at checkout by entering a message to request Saturday Delivery.

Q: How do I know if a product is in stock?
A: Unless you see a specific message indicating otherwise in your shopping cart, you can presume the item is in stock and available to ship. You can also email or phone us for confirmation.
Q: How long will it take for my order to arrive once it ships?
A: While non-expedited service dates are not guaranteed, you can consult this FedEx Ground Shipping Transit Time Schedule Map (below) to estimate when you should receive your order. You will also receive a tracking email when your order is shipped so that you can track it every step of the way. Most domestic USPS Priority Mail orders are delivered within 5 business days.
Q: Are all of your products returnable?
A: Except for customized and edible products, the rest of our inventory is eligible for return, per our Return Policy. All return/exchange requests must be made within seven (7) calendar days' receipt of your order. We can only accept unused merchandise that has not been altered or blessed, (in the case of crosses or icons, etc.).

Q: How do I return an item?
A: To initiate a return, please send a detailed explanation to returns@orthodoxgifts.com. All returns or exchanges must be preauthorized with an assigned Return Authorization Number. Your RA number must be visible on the outside packaging of all returns or exchanges, or we will not accept them.
Q: Is there a restock fee for returns?
A: The only items that bear a restock fee are the clothing and accessories found in the Baptismal Wear Section. Baptismal Wear items are charged a 20% restocking fee.

Q: What if my order is received damaged or is lost in transit?
A: If you receive an item that is damaged in transit, hold on to all packaging and contents. If it was sent via an insured method, you will need to contact us within 3 business days for FedEx claims, which we will file on your behalf. For USPS Priority Mail insured claims, you will need to file the claim yourself here. The same guidelines apply for orders that are lost in transit. USPS Priority Mail only offers insurance coverage for domestic addresses. USPS International packages are not insured.

PLEASE NOTE our Shipping Dept will be closed on the following scheduled closure dates for 2013:
January 1-2 (New Year's Day- Carriers are closed)
January 19 (Old Calendar Theophany)
January 20 (Old Calendar Synaxis of St. John the Baptist)
May 3 (Great & Holy Friday)

May 6 (Bright Monday)
May 27 (Memorial Day)
July 4 (American Independence Day)
Nov. 28 (American Thanksgiving)
January 1 (New Year's Day- Carriers are closed)
January 19 (Old Calendar Theophany)
January 20 (Old Calendar Synaxis of St. John the Baptist)
April 18 (Great & Holy Friday)

April 21 (Bright Monday)
May 26 (Memorial Day)
July 4 (American Independence Day)
Nov. 27 (American Thanksgiving)
Orders for in-stock merchandise placed on these days will be shipped on or about the next business day. This includes expedited orders.
All orders are subject to our Domestic and International Shipping Policies and our store Return Policy.